PO Box 163641
Austin, TX 78746
Company Established In
1997
HOURS OF OPERATION
M-F 8:00AM - 5:00PM
CATEGORIES & HEADINGSdetails >>
SnacKit is the 'Pioneer' of 'Kitted' Donor Refreshments!

CONTACT US: Your staff has more important things to do than to count out cookies, crackers, etc. We can save you Time, Money, and Resources so you can focus on your Mission - Saving Lives!

SnacKit clients experience, based on actual case studies, the following impacts to their operations when they convert to SnacKit services:

>> Time Savings: an average of 10 hours of staff savings per 1,000 units collected when converting to SnacKit services.
>> Reclaim/reuse of 3 square feet of space per 1,000 annual blood units collected from inventory storage space reduction and staging areas.
>> Process simplification of over 97% in snack preparation, delivery, presentation, and reclaim.

Let us help you focus on your Mission, and simplify your operations, and conserve your resources: time, money, space, energy.

We are a service that is custom engineered specifically to achieve your goals, not just a box of snacks for your donors.
Variables we help you manage by how we design your SnacKit service:
>> Consumption per donor
>> Donor satisfaction (variety and size)
>> Snack cost (selection and packaging)
>> Warehousing logistics (receiving, pallet optimization)
>> Waste via expiration management and snack reclaim evaluation and adjustments
>> Drive preparation standardization and process simplification
>> Inventory management, reorder, is simplified into regular scheduled, easily adjusted, shipments of 1 (or sometimes 2) SKUs.

In Summary, SnacKit:
* Assures safe, timely and cost effective refreshments to the blood donor while helping blood centers operate more efficiently. Your staff has better things to do.

Contact us today so we can define a SnacKit service for your blood center operations, and join other of the most progressive blood services organizations who have partnered with us to help them focus on their Mission - Save Lives.
Vendor Showcase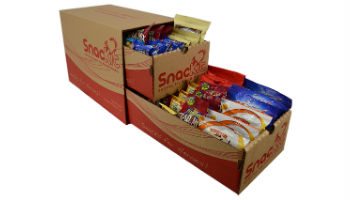 Looking for a quality Donor Snack Service you can depend on? Well, look no further. We're SnacKit, available to provide a custom service to support your donor services. Since 1997, we've been committed to being the best at what we do, serving Community Blood Centers across the United States by not just meeting their expectations, but exceeding them.

The Duo SnacKit is designed for maximum flexibility for all donor centers and drives. The Duo has 2 internal trays of identical configuration to help manage consumption and provide operational flexibility. All snacks are Nut-Free making it any easy choice for all blood drives, including schools with dietary (nut) restrictions.

Snack samples: Lorna Doone Cookies, Oreos, Cheez Its, Chex Mix, Teddy Grahams, Barrel O' Fun Pretzels, Salveo Sea Salt Baked Gluten-Free Chips, Salveo Sea Salt BBQ Gluten-Free Chips, read more